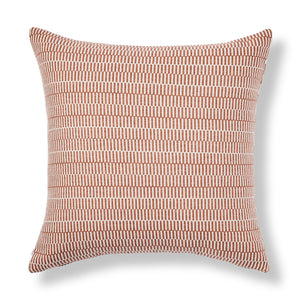 PISTA Dusty Rose Outdoor Pillow
Regular price
Made with Sunbrella Performance yarn, our PISTA fabric is woven with 100% solution-dyed acrylic and resists UV radiation, mold, mildew, and staining – meaning this wonderful fabric is worry-free and will last through the seasons inside and out. Inspired by one of classic interior handwovens SURCO. This fabric is incredibly soft and drapes beautifully and as always, tons of texture.
This pillow is designed with an invisible zipper on the bottom and comes with a luxe angel hair outdoor insert. Made in the USA. Available in 2 sizes.
SHIPPING & DELIVERY INFO
This item is in stock and ships within 7 days of purchase. When your order is ready you will be notified and sent tracking info. 
CLEANING INSTRUCTIONS
Clean with natural soap and lukewarm water, sponge and rinse thoroughly to remove dirt. Chlorine bleach (one part bleach and two parts water) can be used to clean stubborn stains. Rinse thoroughly and dry. 
---